March 19, 2006 Storm Statistics/Photos
Readings From Weather Bus.com:
Rain Start Time
: March 19, 2006 at 9:30am
Rain End Time
: March 19, 2006 at 2:15pm
Storm Total
: 0.25in.
Max Rain Rate
: 0.39in/hr
High Temperature
: 54.5°F @ 8:57am on March 19, 2006
Low Temperature
: 42.3°F @ 10:47am on March 11, 2006
Comments
:
The morning started out partly sunny but quickly became cloudy around 9:00am. The first of several waves came into our area resulting in hail and moderate rainfall for a short period.
Along with the hail and rain came a sharp drop in temperature. If you notice the time on the daily high and low, they occurred within an hour and ninety minutes of each other! Below is the temperature graph showing the quick drop when the rain began.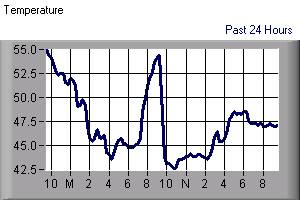 A small amount of snow could be seen on the Superstition Mountains when the clouds cleared but it quickly melted.
Reported Rainfall Around The Valley:
NOTE: The rain totals below were reported to us by private individuals. The accuracy of these reports is unknown. These reports are for interest only.


Apache Junction
Storm Total: 0.23in.
Reported By: Rand
Gold Canyon
Storm Total: 0.25in.
Reported By: Rich



Gold Canyon
Storm Total: Hail Reported
Reported By: Tom
Tempe
Storm Total: 0.08in
(some sleet at 8am)
Reported By: A.M.Z.



Thanks for your
observations!



Report your rain observation. [Click Here]



Storm Pictures Taken on March 19, 2006: (Click Pictures To Enlarge)


| Taken on March 19, 2006 @ 8:33am | | Taken on March 19, 2006 @ 9:37am |
| --- | --- | --- |