2007 Monsoon Season Statistics
The 2007 Monsoon Season started on July 8
th
, after three consecutive days of the daily average dew point being at or above 55°F. The daily average dew point was 56.9°F on the 8
th
, 55.4°F on the 9
th
and 55.9°F on the 10
th
.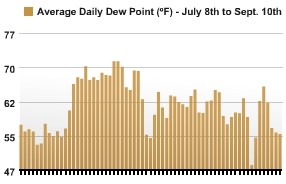 The highest daily dew point average was a remarkable 70.8°F on both July 31
st
and August 1
st
. Around September 9
th
a large ridge persisted over the entire western United States, with a cut-off low off the coast of Northern California, as well as an area of high pressure near the southern California border with Mexico. With these two systems, the flow throughout the state turned to a dry southwesterly to westerly flow, resulting in the 2007 Monsoon coming to an end. The monsoon season was 64 days in length, with 56 of those being considered monsoon days. The longest streak of consecutive monsoon days, was twenty-four occurring from August 10
th
to September 2
nd
. A monsoon day is when the daily dew point average is at or above 55°F. The graph to the left shows the daily average dew points from July 8th to September 10th.
During the 2007 Monsoon Season, we recorded a total of 4.38in. of rainfall, with a peak rain rate of 4.68in/hr. occurring with the storm that moved through the area on September 1
st
. The largest storm total was 0.86in., which occurred on July 21
st
thru 22
nd
. The following, is the precipitation broken into months: July: 2.32in. ; August: 1.21in. ; September: 0.85in.
Throughout the monsoon season, nineteen storms affected the area, with thirteen of those producing measurable rainfall (>0.009in). Of those nineteen, eleven were consider minor, two moderate, five significant and one severe. The one severe storm that moved through the area occurred on September 1
st
, bringing with it extremely heavy rainfall and strong winds, with a peak wind gust of 47mph from the NE. This peak wind gust was the highest we recorded during the monsoon season. Clicking on the links (dates) below will take you to the storm statistics pages for some of the storms that occurred during the monsoon season. The graph below shows the total rainfall for the thirteen storms that brought the area measurable precipitation. (Notice: The six storms that were only trace amounts are not present on the graph.)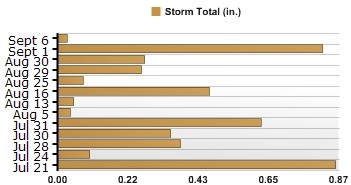 Radar Loop Available:
Photos Available: