March 21, 2006 Storm Statistics
Readings From Weather Bus.com:
Rain Start Time
: March 21, 2006 at 4:05pm
Rain End Time
: March 21, 2006 at 6:10pm
Storm Total
: 0.06in.
Max Rain Rate
: 0.23in/hr
Comments
:
This storm system did bring us more much needed rain, but for the most part only about 0.10in. to 0.20in. fell across the valley. Some higher amounts or rainfall were recorded, with reports of hail throughout the valley.
The past four storms this month have brought our location 2.47in.of rain! Here are some graph showing the passage of the storms through our area. The key areas of marked in red.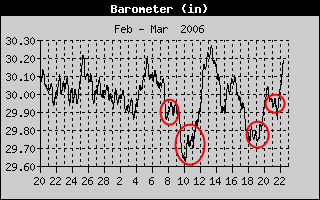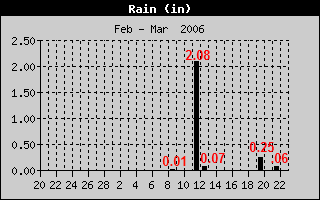 Reported Rainfall Around The Valley:
NOTE: The rain totals below were reported to us by private individuals. The accuracy of these reports is unknown. These reports are for interest only.


Tempe
Storm Total: 0.02in
Reported By: A.M.Z
Mesa
Storm Total: 0.04in.
Reported By: Joe



Thanks for your
observations!



Report your rain observation. [Click Here]