December 22-23, 2008 Storm Statistics
Readings From Weather Bus.com:
First Measurable Rain Time
: December 22, 2008 at 4:50pm
Last Measurable Rain Time
: December 23, 2008 at 5:00am
Storm Total
: 0.46in.
Max Rain Rate
: 0.33in/hr @ 4:06am on December 23rd
Comments
: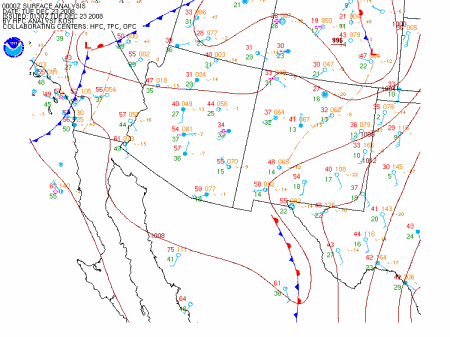 A trough of low pressure and associated cold front moved through the region from the evening hours on December 22nd through the early morning hours on December 23rd. This weather system, brought most location in the valley light to moderate rainfall and much cooler temperatures. The surface analysis loop to the left shows the cold front passing through the state during this time frame.
Note: Cold fronts on surface analyses are represented by a blue line with triangles. The triangles point in the direction that the front is moving.
Rainfall started at our location around 4:50pm on December, 22nd, as a result of decent dynamics and moisture ahead of the front. Heavier rainfall moved into the area as the front passed thru, around 4:00am in the morning, with the peak rain rate with this storm being 0.33in/hr, which occurred at 4:06am on December 23rd. To the right/below is the Doppler Radar Base Reflectivity (1.4º tilt) showing the precipitation associated with the cold front. Note, the stronger cells which develop in the higher terrain to the north and east of Apache Junction / Gold Canyon. This is a result of a SW flow, which allowed for orographic precipitation. Behind the front, a cool air mass moved into the region, resulting in well below normal high temperatures on December 23rd, with the high temperature only reaching 54.4ºF. The storm total was 0.46in..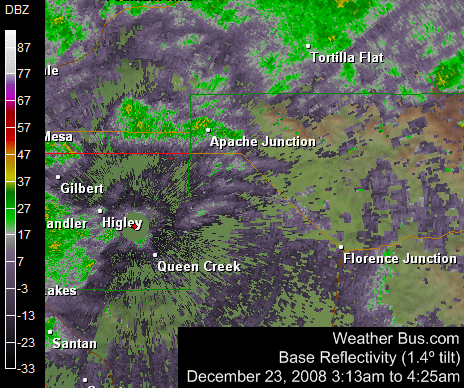 Below are rain totals reported to us by the public. Weather Bus.com thanks you for your reports! (Reports are ordered from newest to oldest. Times are in EST.)
Location
: NW Gold Canyon
Report Time
: 24
th
of December 2008 10:47AM
Reporter
: Al R.
Rain Total
: 0.56in.
Location
: Near the 1st Tee at Gold Canyon RV
Report Time
: 23
rd
of December 2008 12:09PM
Reporter
: CK
Rain Total
: 0.50in.
Comments
: Total accumulation over the past 24 hrs.
Location
: E. end of Silly Mtn.
Report Time
: 23
rd
of December 2008 11:06AM
Reporter
: Robert
Rain Total
: ~0.60in.
(The above rain totals were reported to us by the public. The accuracy of these reports is unknown.)
We thank you again for your reports! If it rained at your location, let us know by using the menu toward the top of the page (Public Reports --> Rain Reports). Your report will be added to this page.

Overall, this was a fairly nice storm system bringing most of the region light to moderate continuous rainfall for several hours.