July 25-26, 2006 Storm Statistics
Readings From Weather Bus.com:
Rain Start Time
: July 25, 2006 at 9:11pm
Rain End Time
: July 26, 2006 at 3:45am
Storm Total
: 0.34in.
Max Rain Rate
: 1.62in/hr
Peak Wind Gust
: S 26mph
Total Lightning
: 295,610
Comments
:
Due to a surge of moisture from the Gulf of California, thunderstorm were able to grow rapidly, produce very heavy rainfall and stay well developed into the morning hours of July 26, 2006. A Severe Thunderstorm Watch was issued from the Storm Prediction Center (SPC) from 7:25pm to 11:00pm MST for the area. Later on, the National Weather Service Forecast Office in Phoenix issued numerous Severe Thunderstorm Warnings, and several Flash Flood Warnings. By taking a looking at the Infrared Satellite image, at the bottom of this page, you can see the vast size of this storm.
To say the least, the thunderstorms on July 26, 2006 were very impressive. The lightning associated with these storms was some of the most intense we have seen in this area. The peak lightning strokes per minute was 1,548! A total of 295,610 strokes were recorded with 14,564 of those being within 50 miles of our location.
Rainfall was another large element to this storm. At our location we recorded a storm total of 0.34in. with a peak rain rate of 1.62in/hr at 9:29pm.
Gerry in Gold Canyon reported a rain total of 0.78in, with 0.65in. occurring in 25 minutes. TMR in Gold Canyon reported a total rainfall of 0.80in. Also, in Gold Canyon Al reported a rainfall total of 0.43in. The Kings Ranch Road rain gauge reported 0.16in. As can be seen, during these thunderstorms small variations in location can create a large difference in rain totals. Thank you for your rain reports! The above rain totals were reported to us by private individuals. The accuracy of these reports is unknown.
Thanks to the rainfall the temperature fell from 96.8°F at 9pm to a pleasant 78.1°F at 9:15pm. The max temperature rate of change was -18.35°F/hr. This fall can be seen in the 24 hour temperature graph below.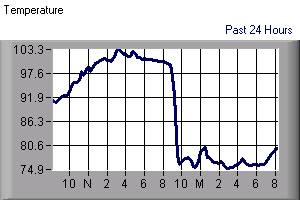 For our location wind was not a large factor with a peak wind gust of 26mph. However, in the Phoenix area numerous power lines and trees were reported down.
Due to the size, intensity, rainfall, and lightning associated with this storm we are rating it in the Severe category.
Storm Pictures Taken on July 25, 2006: (Click Pictures To Enlarge)


| Taken on July 25, 2006 @ 8:45pm | | Taken on July 25, 2006 @ 11:50pm |
| --- | --- | --- |
| Radar Loop From 10:30pm to 11:05pm | | Taken on July 25, 2006 @ 10:30pm |
Rainfall Totals Released From The NWS:



PUBLIC INFORMATION STATEMENT
NATIONAL WEATHER SERVICE PHOENIX AZ
418 AM MST WED JUL 26 2006
 
 ...24 HOUR PRECIPITATION FOR THE PHOENIX METRO AREA ENDING
 AT 4 AM...
 
                                6 HR PRECIPITATION (INCHES)
                                OLDEST  >>>>>>>>>>>  NEWEST
 
   ID     STATION NAME           4 AM  10 AM   4 PM  10 PM   24 HR
                               -10 AM  -4 PM -10 PM  -4 AM   TOTAL
 
 
 
 AHWATUKEE
 MAHA3    AHWATUKEE              0.00   0.00   0.08   0.24    0.31
 
 APACHE JUNCTION
 PMDA3    USERY MOUNTAIN PARK    0.00   0.00   0.00   0.35    0.35
 KNGA3    KINGS RANCH            0.00   0.00   0.00   0.16    0.16
 
 AVONDALE
 AVOA3    AGUA FRIA @ BUCKEYE    0.00   0.00   0.00   0.00    0.00
 
 BUCKEYE
 MBUA3    BUCKEYE FRS #2         0.00   0.00   0.67   0.12    0.79
 
 CAREFREE
 ZCAA3    FRAESFIELD MOUNTAIN    0.00   0.00   0.00   0.08    0.08
 CRFA3    CAREFREE RANCH           M      M    0.00   0.00    0.00
 
 CAVECREEK
 HMBA3    HUMBOLDT MOUNTAIN      0.00   0.00     M    0.00    0.00
 CBTA3    CAVE BUTTES DAM        0.00   0.00   0.00   0.00    0.00
 
 CHANDLER
 ZCHA3    EMF @ ARIZONA AVE      0.00   0.00   0.00   0.94    0.94
 
 GILBERT
 ZGIA3    MESA TOWER             0.00   0.00   0.04   0.39    0.43
 ZCPA3    CROSSROADS PARK        0.00   0.00   1.81   0.31    2.13
 
 GLENDALE
 MGLA3    CITY OF GLENDALE       0.00   0.00     M    0.00    0.00
 MMDA3    MARYLAND @ 27TH AVE    0.04   0.00   0.00   0.00    0.04
 MSXA3    ACDC @ 67TH AVE        0.00   0.00   0.00   0.24    0.24
 
 GOODYEAR
 ZGYA3    TUTHILL @ RAY RD       0.00   0.00   0.59   0.12    0.71
 
 GUADALUPE
 ZGAA3    GUADALUPE FRS          0.00   0.00   0.04   0.63    0.67
 
 MESA
 MBDA3    BROADWAY @ DOBSON      0.00   0.00   0.16   1.02    1.18
 ZBLA3    BROADWAY @ LINDSAY     0.00   0.00   0.12   1.89    2.01
 MBHA3    BROWN RD. @ HORNE      0.00   0.00   0.00   0.59    0.59
 MEEA3    KLEINMAN PARK          0.00   0.00   0.31   0.98    1.30
 FALA3    THUNDER MOUNTAIN       0.00   0.00   0.00   0.59    0.59
 MLAA3    MOUNTAIN VIEW PARK     0.00   0.00   0.04   0.91    0.94
 WMSA3    QUEEN CREEK RD         0.00   0.00   0.00   0.47    0.47
 ZUPA3    USERY PARK WS          0.00   0.00   0.00   0.35    0.35
 
 NEW RIVER
 NEWA3    SUNUP RANCH            0.00   0.00   0.00   0.00    0.00
 
 PARADISE VALLEY
 MCLA3    CAVE CREEK LANDFILL      M      M      M      M       M
 MCCA3    E FORK CC #1           0.00   0.00   0.00   0.20    0.20
 MLDA3    LOST DOG WASH            M      M    0.00   0.59    0.59
 MRPA3    REATA PASS DAMSITE     0.00   0.00   0.00   0.20    0.20
 
 PEORIA
 NRDA3    NEW RIVER DAM          0.00   0.00   0.00   0.00    0.00
 MBLA3    NEW RIVER @ BELL RD      M    0.00   0.00   0.08    0.08
 
 PHOENIX
 MBTA3    CESAR CHAVEZ PARK      0.00   0.00   0.16   0.16    0.31
 MMIA3    MISSOURI @ 16TH ST     0.00     M      M    0.00    0.00
 MOXA3    OLD XCUT @ MCDOWELL    0.00   0.00   0.12   0.71    0.83
 MPAA3    PAPAGO PARK            0.00   0.00   0.35   0.47    0.83
 MPPA3    PERRY PARK             0.00   0.00   0.00   0.04    0.04
 ADBA3    ADOBE DAM              0.00     M    0.00   0.16    0.16
 MPHA3    SKUNK CREEK @ I-17     0.00   0.00   0.00   0.63    0.63
 MPMA3    JEFFERSON @ 4TH AVE    0.20   0.00   0.00   0.16    0.35
 MROA3    ROESER @ 2ND ST        0.00   0.00   0.04   0.39    0.43 
 ZSFA3    SOUTH MOUNTAIN FAN       M    0.00   0.00   0.00    0.00
 MTHA3    THOMAS & 16TH ST       0.00   0.00   0.00   0.12    0.12
 MTQA3    THOMAS @ 48TH ST       0.00   0.00   0.12   0.31    0.43
 
 QUEEN CREEK
 ZQRA3    QUEEN CR @ RITTENHO    0.00   0.00   0.08   1.38    1.46
 ZQCA3    QUEEN CREEK LANDFIL    0.00     M      M      M       M
 QNCA3    EMF @ QUEEN CREEK R    0.00   0.00   0.08   0.20    0.28
 
 SCOTTSDALE
 SDLA3    INDIAN BEND WASH @     0.00   0.00   0.71   0.47    1.18
 ZMDA3    MCDOWELL MOUNTAIN P    0.00   0.00   0.83   0.08    0.91
 MPJA3    PIMA @ JOMAX           0.00   0.00   0.00   0.12    0.12
 
 SUN CITY
 MSWA3    SUN CITY WEST          0.00   0.00   0.00   0.08    0.08
 
 SURPRISE
 MDYA3    DYSART @ BELL RD       0.00   0.00     M    0.00    0.00
 MCFA3    MCMICKEN FLOODWAY      0.00   0.00   0.00   0.04    0.04
 
 TEMPE
 MSPA3    SALT RIVER @ PRIEST    0.00   0.00   1.30   0.67    1.97
 MTEA3    ASU SOUTH