July 29-30, 2006 Storm Statistics
Readings From Weather Bus.com:
Rain Start Time
: July 29, 2006 at 11:17pm
Rain End Time
: July 30, 2006 at 3:30am
Storm Total
: 0.55in.
Max Rain Rate
: 2.30in/hr
Peak Wind Gust
: NE 27mph
Comments
:
This storm produced another sizeable rainfall total for our area, bringing the monthly rainfall total to 2.07in., with 1.54in of that falling in the past five days (July 25
th
- 30
th
). The first storm that moved through the area on July 29, 2006, occurred at about 3:00am and only gave our location a trace amount of rain. The second storm moved into the area from the North at around 11:00pm and moved out of the area by 3:30am. This particular storm had light to moderate rainfall, with a storm total of 0.55in., and a peak rain rate, at 2:26am on July 30
th
, of 2.30in/hr.
Al, in Gold Canyon, reported a rainfall total of 0.02in. during the July 29
th
early morning storm, and then reported a storm total of 0.54in. after the larger storm moved through the area. Chris in Apache Junction reported 0.51in. of rain. Between July 29
th
at 9pm and July 30
th
at 10am, Debra, in Gold Canyon, reported 1.00in. of rain. Gerry, also in Gold Canyon, reported a storm total of 0.53in. The Kings Ranch Road rain gauges read a storm total of 0.59in. Thank you for your rain reports! If it rained at your location during this storm, let us know and we will add your report to this storm report. To report your rain observations click on the link at the top of any page titled "Rain Report Form". The above rain totals were reported to us by private individuals. The accuracy of these reports is unknown.
This storm complex was quite large and stretched all the way from south of Gold Canyon, to north of Flagstaff. The storm in its entirety can be seen by looking at the Infrared Satellite image below, which was taken at midnight. Also, by viewing the radar image below you can see the storm moving into the Gold Canyon area around 11:11am.
Below is the daily rainfall graph from June 30
th
through July 30
th
. During this time period we have seen seven days with measurable precipitation. Of those seven days, all of them had rainfall totals grater then 0.01in, and six of those days the rainfall totals were above 0.10in.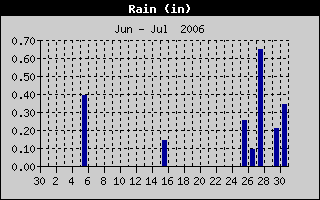 Storm Pictures Taken on July 29, 2006: (Click Pictures To Enlarge)


| Radar Loop From 10:51pm to 11:27pm | | Taken on July 29, 2006 @ 12:00am |
| --- | --- | --- |
Rainfall Totals Released From The NWS:



PUBLIC INFORMATION STATEMENT
 NATIONAL WEATHER SERVICE PHOENIX AZ
 1000 AM MST SUN JUL 30 2006
 
 ...24 HOUR PRECIPITATION FOR THE PHOENIX METRO AREA ENDING
 AT 10 AM...
 
                                6 HR PRECIPITATION (INCHES)
                                OLDEST  >>>>>>>>>>>  NEWEST
 
   ID     STATION NAME          10 AM   4 PM  10 PM   4 AM   24 HR
                                -4 PM -10 PM  -4 AM -10 AM   TOTAL
 
 
 
 AHWATUKEE
 MAHA3    AHWATUKEE              0.00   0.00   0.08   0.00    0.08
 
 APACHE JUNCTION
 PMDA3    USERY MOUNTAIN PARK    0.00   0.00   0.04   0.04    0.08
 KNGA3    KINGS RANCH            0.00   0.00   0.59   0.00    0.59
 
 AVONDALE
 AVOA3    AGUA FRIA @ BUCKEYE    0.00   0.00   0.00   0.00    0.00
 
 BUCKEYE
 MBUA3    BUCKEYE FRS #2         0.00   0.00   0.00   0.00    0.00
 
 CAREFREE
 ZCAA3    FRAESFIELD MOUNTAIN    0.00   0.00   0.79   0.00    0.79
 CRFA3    CAREFREE RANCH         0.00   0.00   0.67   0.00    0.67
 
 CAVECREEK
 HMBA3    HUMBOLDT MOUNTAIN      0.00   0.00   1.06   0.00    1.06
 CBTA3    CAVE BUTTES DAM        0.00   0.00   0.12   0.20    0.31
 
 CHANDLER
 ZCHA3    EMF @ ARIZONA AVE      0.00   0.00   0.00   0.00    0.00
 
 GILBERT
 ZGIA3    MESA TOWER             0.00   0.00   0.08   0.00    0.08
 ZCPA3    CROSSROADS PARK        0.00   0.00   0.04   0.20    0.24
 
 GLENDALE
 MGLA3    CITY OF GLENDALE       0.00   0.00   0.16   0.00    0.16
 MMDA3    MARYLAND @ 27TH AVE    0.00   0.00   0.00   0.00    0.00
 MSXA3    ACDC @ 67TH AVE        0.00   0.00   0.00   0.00    0.00
 
 GOODYEAR
 ZGYA3    TUTHILL @ RAY RD       0.00   0.00   0.00   0.00    0.00
 
 GUADALUPE
 ZGAA3    GUADALUPE FRS          0.00   0.00   0.08   0.00    0.08
 
 MESA
 MBDA3    BROADWAY @ DOBSON      0.00   0.00   0.24   0.00    0.24
 ZBLA3    BROADWAY @ LINDSAY     0.00   0.00   0.24   0.04    0.28
 MBHA3    BROWN RD. @ HORNE      0.00   0.00   0.20   0.04    0.24
 MEEA3    KLEINMAN PARK          0.00   0.00   0.16   0.00    0.16
 FALA3    THUNDER MOUNTAIN       0.00   0.00   0.12   0.00    0.12
 MLAA3    MOUNTAIN VIEW PARK     0.00   0.00   0.28   0.00    0.28
 WMSA3    QUEEN CREEK RD         0.00   0.00   0.08   0.00    0.08
 ZUPA3    USERY PARK WS          0.00   0.00   0.16   0.04    0.20
 
 NEW RIVER
 NEWA3    SUNUP RANCH            0.00   0.00   0.47   0.04    0.51
 
 PARADISE VALLEY
 MCLA3    CAVE CREEK LANDFILL      M      M      M      M       M
 MCCA3    E FORK CC #1           0.00   0.00   0.24   0.00    0.24
 MLDA3    LOST DOG WASH          0.00   0.00   0.20   0.00    0.20
 MRPA3    REATA PASS DAMSITE       M      M    0.31   0.00    0.31
 
 PEORIA
 NRDA3    NEW RIVER DAM          0.00   0.00   0.00   0.00    0.00
 MBLA3    NEW RIVER @ BELL RD    0.00   0.00   0.00   0.08    0.08
 
 PHOENIX
 MBTA3    CESAR CHAVEZ PARK      0.00   0.00   0.12   0.04    0.16
 MMIA3    MISSOURI @ 16TH ST     0.00   0.00   0.00   0.12    0.12
 MOXA3    OLD XCUT @ MCDOWELL    0.00   0.00   0.08   0.00    0.08
 MPAA3    PAPAGO PARK            0.00   0.00   0.20   0.00    0.20
 MPPA3    PERRY PARK             0.00   0.00   0.16   0.00    0.16
 ADBA3    ADOBE DAM              0.00     M    0.00   0.00    0.00
 MPHA3    SKUNK CREEK @ I-17     0.00   0.00   0.24   0.00    0.24
 MPMA3    JEFFERSON @ 4TH AVE      M    0.00   0.04   0.00    0.04
 MROA3    ROESER @ 2ND ST        0.00   0.00   0.04   0.00    0.04
          UNDEFINED                M      M      M      M       M
 ZSFA3    SOUTH MOUNTAIN FAN       M      M      M      M       M
 MTHA3    THOMAS & 16TH ST       0.00   0.00   0.00   0.00    0.00
 MTQA3    THOMAS @ 48TH ST       0.00   0.00   0.20   0.00    0.20
 
 QUEEN CREEK
 ZQRA3    QUEEN CR @ RITTENHO    0.00   0.00   0.04   0.04    0.08
 ZQCA3    QUEEN CREEK LANDFIL    0.00   0.00   0.08   0.00    0.08
 QNCA3    EMF @ QUEEN CREEK R    0.00   0.00   0.20   0.04    0.24
 
 SCOTTSDALE
 SDLA3    INDIAN BEND WASH @     0.00   0.00   0.12   0.00    0.12
 ZMDA3    MCDOWELL MOUNTAIN P    0.00   0.00   0.75   0.00    0.75
 MPJA3    PIMA @ JOMAX           0.00   0.00   0.39   0.04    0.43
 
 SUN CITY
 MSWA3    SUN CITY WEST          0.00   0.00   0.00   0.00    0.00
 
 SURPRISE
 MDYA3    DYSART @ BELL RD       0.00   0.00   0.00   0.00    0.00
 MCFA3    MCMICKEN FLOODWAY      0.00   0.00   0.00   0.00    0.00
 
 TEMPE
 MSPA3    SALT RIVER @ PRIEST    0.00   0.00   0.20   0.00    0.20
 MTEA3    ASU SOUTH              0.00   0.00   0.24   0.00    0.24