August 9, 2006 Storm Statistics
Readings From Weather Bus.com:
Rain Start Time
: August 9, 2006 at 3:30am
Rain End Time
: August 9, 2006 at 5:15am
Storm Total
: 0.07in.
Max Rain Rate
: 0.38in/hr
Peak Wind Gust
: NW 34mph at 2:59am
Total Lightning
: 118,711
Comments
:
This particular storm moved into the area from the Southeast at around 3:30am and exited the area by 5:15am. The rainfall with this storm was light to moderate, with a peak rain rate of 0.38in/hr. You can see this line of storms move into our area, by clicking on the radar image below.
In Gold Canyon, Al reported a 0.29in. of rainfall and Gerry reported 0.14in. of rain occurring between 2:50am and 5:20am. Thank you for your rain reports! The above rain totals were reported to us by private individuals. The accuracy of these reports is unknown.
This storm was the second to affect the area within a 12 hour period. The first occurred on August 8
th
around 3pm giving us 0.05in. of rain, and the second one occurred around 3:30am on August 9
th
.The three graphs below (Temperature, Wind Speed, Daily Rain) show these two storms moving thru the area. The red circles signify the times during the storms.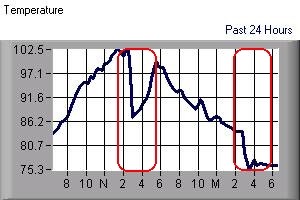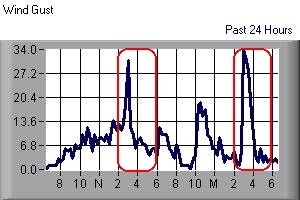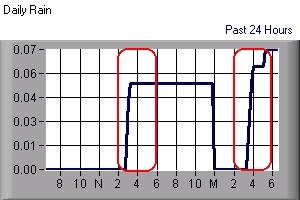 Storm Pictures Taken on August 9, 2006: (Click Pictures To Enlarge)

Note:
Due to the length of this radar loop it may take a moment to load. Please be patient. File Size: 2.85MB

Radar Loop From 1:00am to 6:50am